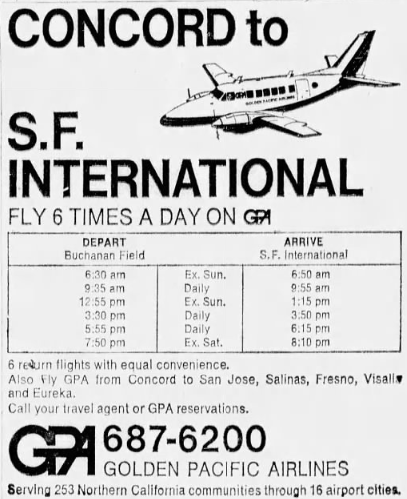 This is an advertisement from 1969.
If you wanted, you could fly from Concord's Buchanan Airport to SFO, six times a day. You could also fly from Concord to San Jose, Eureka, Visalia, Salinas and Fresno.
Anyone remember when you could fly out of Concord with Golden Pacific Airlines?
ABOUT THE CLAYCORD ONLINE MUSEUM: The Claycord Online Museum is made up of historical photos, documents & anything else that has to do with the history of our area.
If you have any old photos or items that you'd like to place in the Claycord Online Museum, just scan or take a photo of them, and send them to the following address: news@claycord.com. It doesn't matter what it is, even if it's just an old photo of your house, a scan of an old advertisement or an artifact that you'd like us to see, send it in and we'll put it online.