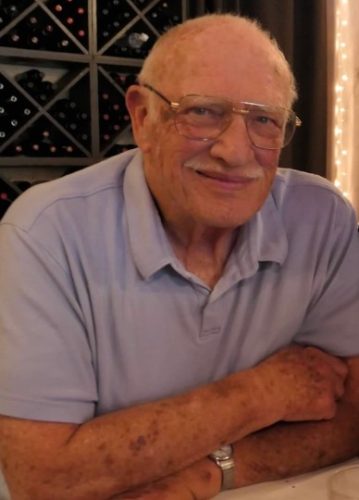 Obituary – Charles Joseph Boyle – 1934 – 2023 (Concord)
Charles Joseph "Charlie" Boyle, 88, passed away in Concord on April 7, 2023 with his children by his side. He was a beloved husband, father, grandfather, brother, uncle, neighbor and friend.
Born in Wilkes-Barre, PA in 1934, he met and married his wife, Mary Ann, in Houston, TX, then after a brief stay in Amsterdam, they moved to Concord in 1968 and raised their family. Charlie was a devoted husband to Mary Ann for 41 years – he loved and cared for until her death in 2004. He treasured his family and enjoyed jazz, books, crossword puzzles, and travel. He worked for Shell Oil as an engineer for 35 years until retiring in 1991.
Charlie made the world brighter for many through his generosity and kindness. His colleagues at Shell admired his patience, humor, and problem-solving skills. An active member of St. Agnes and Christ the King parishes for many years, he served as a lector, helped lead the baptismal program, counted the weekly collection, delivered communion to the sick and homebound, and worked with the St. Vincent DePaul Society. A longtime As' fan, after retirement he joined the volunteer crew at the ballpark and after Mary Ann's death, volunteered at the hospital as an expression of his gratitude for the care she had received there.
Charlie was an incredible dad – supportive, loving, quick to share a cheesy joke, the first to celebrate joys and accomplishments, to ask how he could help, or to offer an embrace. He cherished his role as Pop Pop to his grandchildren, passing along his love of books and baseball and delighting in their growth. And just as he did for his own kids, he showed up enthusiastically for every performance, every game, and every ceremony to cheer them on.
In addition to his children and their spouses – Pat and Debbie Boyle, Mary Beth and Bob Bravo, Katy and Dave McDonough – he is survived by his grandchildren, Claire Ann and Peter McDonough, Nico Bravo, Raeanna Moomaw, surrogate great-granddaughter Judith, his sister, Barbara Garney and many nieces and nephews. He was preceded in death by his parents, Charles and Monna Boyle, and his wife, Mary Ann Boyle.
Visitation will take place on Wednesday, April 19th at Ouimet Brothers Concord Funeral Chapel from 5:00 to 8:00 pm. Mass of Christian burial will be celebrated on Thursday, April 20th at 10:30 am at St. Agnes Catholic Church in Concord. Burial will follow at Queen of Heaven Cemetery in Lafayette.
In lieu of flowers, please consider making a memorial gift to the National Multiple Sclerosis Society, KCSM Radio, or Hospice East Bay.
Obituaries are always 100% free on Claycord.com.
To submit an obituary, please click the "View & Submit Obituaries (FREE)" tab at the top of the page.