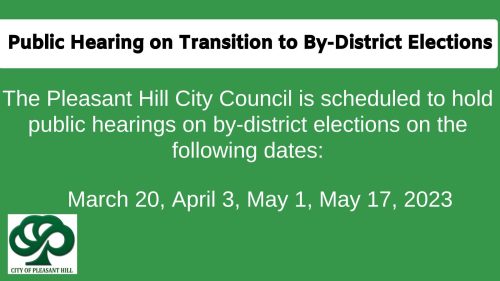 The Pleasant Hill Community is invited to provide input at four upcoming planning sessions regarding the City's proposed transition to district-based elections.
Following action taken by the City Council at its March 6, 2023 meeting, the City of Pleasant Hill will begin the public hearing process for moving to by-district elections for City Council seats.
Public hearings will be held at the following regular City Council meetings:
March 20, 2023
April 3, 2023
Following these two sessions, the City will have a demographer prepare an electoral division map, which will then be published. Once the map is published, the City anticipates holding two more public hearings to discuss and garner feedback on the map. At this time, these meetings are tentatively scheduled for the regular Council sessions on:
May 1, 2023
May 17, 2023
The community will be able to provide feedback on the content of the district map and/or the proposed sequence of elections, if applicable.
Once the feedback on the map has been received, the City Council will schedule a final public hearing. At this time, it is scheduled to be held at the regular meeting on June 5, 2023.
At that meeting, the Council is expected to adopt an ordinance transitioning the City from an at-large to a by-district method of electing members of the City Council, approve the establishment of electoral division map boundaries, and approve the sequence of future Council elections, if applicable.
Pleasant Hill City Council meetings begin at 7:00 p.m. and are held in the Council Chambers at City Hall, 100 Gregory Lane.