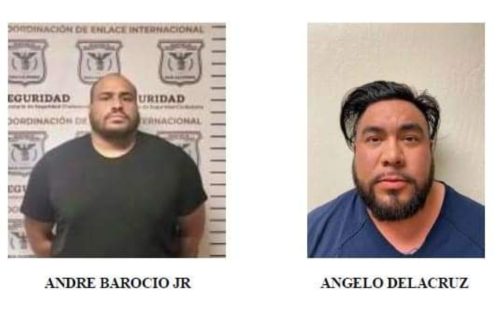 The Pleasant Hill Police Department is pleased to announce the arrest of both suspects in the April 3, 2023 shooting death of Oscar Laredo-Arellano.
The following is from the Pleasant Hill Police Department:
On April 3, 2023 at about 1:12AM, the Pleasant Hill Police Department received 911 calls of a shooting with a victim down in the parking lot of Farrington's Bar. Upon police arrival, a single victim was found deceased in the parking lot. The suspect fled in a vehicle prior to police arrival. The investigation determined the shooting occurred after a dispute started between two groups of people. The victim was identified as 37 year-old, Oscar Laredo-Arellano of Concord.
Since the beginning of the investigation, Pleasant Hill Police Detectives have worked closely with law enforcement partners throughout the county and state.
Andre BAROCIO Jr (age 34 of Hercules) was identified as the main suspect and a warrant for his arrest was issued by a Superior Court Magistrate. Evidence in the investigation indicated that Mr. Barocio had fled the state and likely relocated to Mexico following the murder. Angelo DELACRUZ (age 31 of Antioch) was identified as a suspect as well.
Mr. Delacruz was located and arrested in Douglas County (Nevada) in late April 2023. He was extradited from Nevada and booked into the Martinez Detention Facility for 245(a)(2) PC- Assault with a Firearm.
Pleasant Hill Police Detectives continued working to determine Mr. Barocio's whereabouts. With the assistance of Federal Law Enforcement and State Police in Mexicali (Mexico), Mr. Barocio was arrested on May 22nd, 2023 and returned to United States law enforcement authorities at the Calexico Border Crossing in Imperial County, CA. On May 25th, 2023, Mr. Barocio was transported to the Martinez Detention Facility and booked for PC 187- Murder, PC 29800(a)(1)- Possession of a Firearm by a Felon, and the enhancement of PC 12022.53(d)- Use of a Firearm Causing Great Bodily Injury.
No additional suspects in the homicide are at-large.
The Pleasant Hill Police Department expresses our deepest condolences to the victim's family and we thank all members of the community that assisted in this homicide investigation.