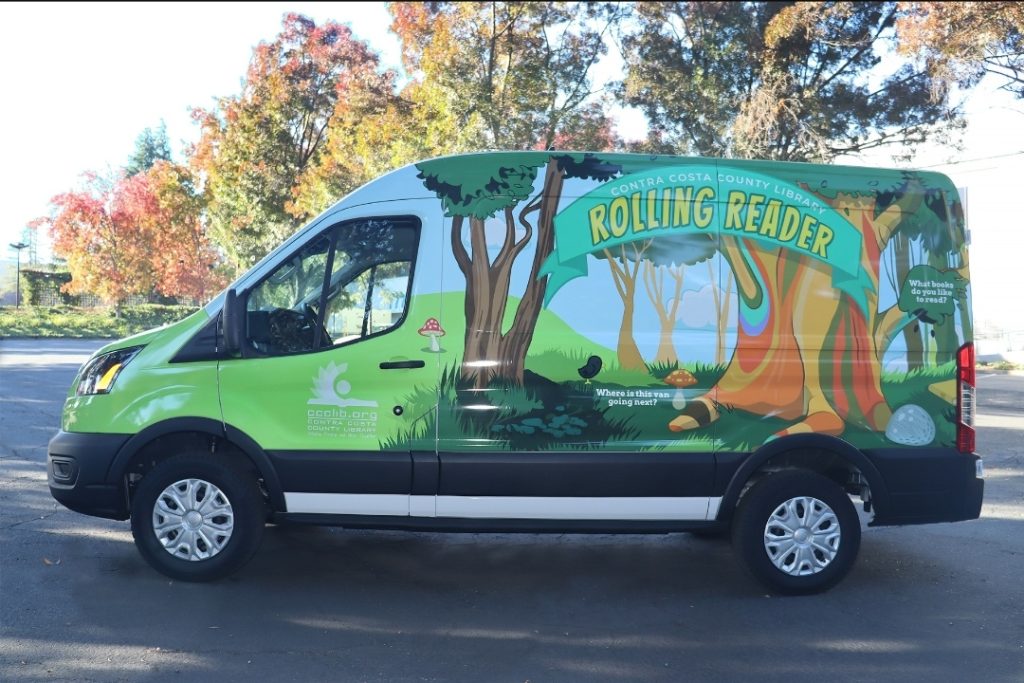 The Rolling Reader is on the road.
The Contra Costa County Library has a brand-new, all-electric, early literacy outreach van that visits underserved communities across the county.
It brings library staff to various locations to present story times, hand out free books and crafts, and provide activities focused on early literacy, small motor skills, and STEM.
"We recognized that to reach all our communities, we needed to get out of our buildings and take our services to the residents who need them most," said county librarian Alison McKee, in a statement. "The goal of the Rolling Reader is to instill a lifelong habit of reading and love for libraries."
The Contra Costa County Library has 26 branches across the county, yet many residents still are not able to easily access a library, the library said Wednesday, in a statement.
"Some may live too far from a branch, or don't have access to reliable transportation, or have to work during library open hours. The Rolling Reader will allow the library to prioritize providing literacy services to children up to five years old in vulnerable communities impacted by poverty."
The library said research shows early and positive experiences with books set the stage for a child's success in learning to read. Literacy skills are a strong predictor of health, employment status, and overall success in life.
Providing story times and crafts for young children will encourage regular exposure to reading and books, thus improving the potential for life success for many children and families.
Funding for the outreach van was provided by the Bella Vista Foundation and MCE. Staffing for the outreach van is provided by Measure X, the county's half-cent sales tax passed by voters in 2020.
"Early childhood services are one of our County's top priorities," said Contra Costa Board of Supervisors Chairperson John Gioia, in a statement. "The new library outreach van and early literacy program will improve the lives of many children by making these opportunities easily accessible."
The Rolling Reader will make its debut on Wednesday, November 15 at the Monument Crisis Center. The event will include a Spanish/English bilingual story time, free books, crafts and activities for children, and an opportunity to see the Rolling Reader and the new van mascot, Roxy the Fox.
Visit ccclib.org to sign up for a library card and get connected to books and resources. For questions about library services and programming or account information, contact the library via online chat at https://bit.ly/3sryL8Z. Or email ask@library.cccounty.us or text questions to (925) 290-7627.