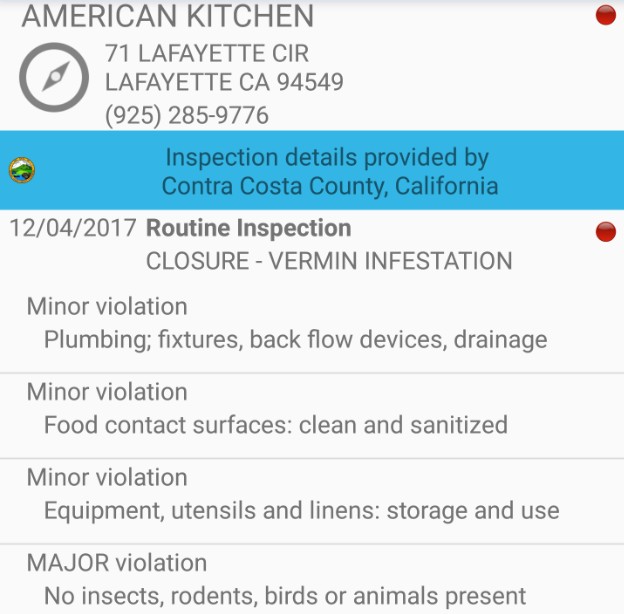 American Kitchen, located at 71 Lafayette Circle in Lafayette was closed this week due to a vermin infestation.
The Contra Costa County Health Department released their observations to Claycord.com. They say live cockroaches, along with nests, were found under the food preparation table.
Other findings from the routine inspection are shown below.

Minor violation – Plumbing; fixtures, back flow devices, drainage
Minor violation – Food contact surfaces: clean and sanitized
Minor violation – Equipment, utensils and linens: storage and use
MAJOR violation – No insects, rodents, birds or animals present
MAJOR violation – Time as a public health control; procedures & records
Minor violation – Floors, walls and ceiling: built, maintained and clean
Minor violation – Nonfood contact surfaces clean
Minor violation – Equipment/utensils-approved; installed; clean; good repair; capacity (e.g. sinks, CO2tanks, etc)
Minor violation – Proper hot and cold holding temperatures
Minor violation – Thermometers provided and accurate
UPDATE: The restaurant has been reinspected by the Health Department and is back open.
RELATED STORIES: