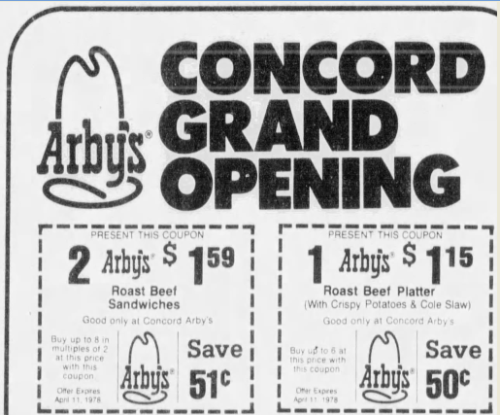 Who remembers Arby's on Clayton Rd. in Concord?
It was built in the late-70s, but didn't make it through the 80s.
Arby's was located at 4340 Clayton Rd. in Concord, just east of Treat Blvd.
During their grand opening in the late-70s, a young Concord resident named Donald Davis won a free roast beef sandwich from Arby's every day for the rest of his life.
Anyone know Donald Davis today? Has he gone to Arby's every single day since he won the prize in 1978? 🙂
The building is no longer an Arby's, it has housed New Lim's Garden for the past several decades (see below).
ABOUT THE CLAYCORD ONLINE MUSEUM: The Claycord Online Museum is made up of historical photos, documents & anything else that has to do with the history of our area.
If you have any old photos or items that you'd like to place in the Claycord Online Museum, just scan or take a photo of them, and send them to the following address: news@claycord.com. It doesn't matter what it is, even if it's just an old photo of your house, a scan of an old advertisement or an artifact that you'd like us to see, send it in and we'll put it online!
Click on the tag below titled "Claycord Online Museum" to view other items.