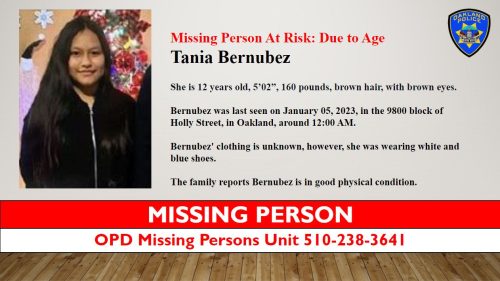 A 12-year-old girl is missing from Oakland and police are asking for help in locating her.
Tania Bernubez was last seen around midnight Wednesday in the 9800 block of Holly Street. She is at risk because of her age, according to an Oakland police spokesperson.
Police do not know what clothing Bernubez was last wearing, but she was wearing blue and white shoes.
She is 5 feet 2 inches tall, 160 pounds with brown hair and brown eyes, according to police.
The girl's family told police that she is in good physical condition.
Anyone with information on Bernubez's whereabouts is asked to contact the Oakland Police Department's Missing Person's Unit at (510) 238-3641.