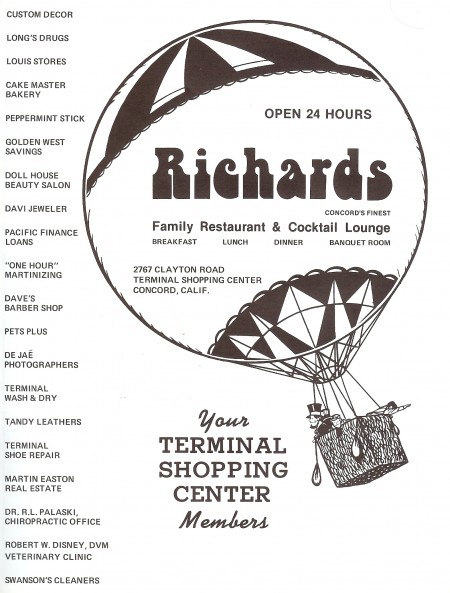 This is an old advertisement for the Terminal Shopping Center on Clayton Road in Concord, across the street from Concord BART.
This ad was featured in the official program for the 1974 Concord Summer Jazz Festival.
The big ad is obviously for "Richard's Family Restaurant & Cocktail Lounge", but if you look on the left, you can see all the businesses in the center in 1974.
ABOUT THE CLAYCORD ONLINE MUSEUM: The Claycord Online Museum is made up of historical photos, documents & anything else that has to do with the history of our area.
If you have any old photos or items that you'd like to place in the Claycord Online Museum, just scan or take a photo of them, and send them to the following address: news@claycord.com. It doesn't matter what it is, even if it's just an old photo of your house, a scan of an old advertisement or an artifact that you'd like us to see, send it in and we'll put it online!
Click on the tag below titled "Claycord Online Museum" to view other items.