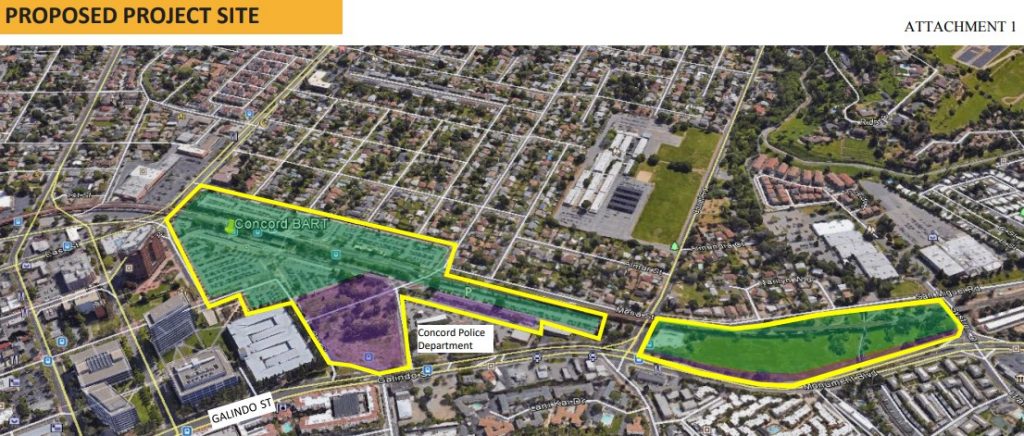 A proposed downtown Concord soccer stadium project, which included plans for a convention center, a hotel and housing, is now off the table, its developer and city leaders said Wednesday.
John Montagh, Concord's economic development manager, said the Walnut Creek-based Hall Equities Group notified the city last week it isn't moving forward with the initial exclusive negotiation agreement for the project. The uncertainties of the era of COVID-19, and how that could affect public gatherings, was cited as a key reason.
"Based upon how the world has changed quite a bit, it's become problematic (for Hall) to proceed with the project at this point," said Montagh, who noted that as of Wednesday morning the city had not yet received formal notification from Hall Equities confirming the pullout.
Mark Hall, president and CEO of Hall Equities Group, said Wednesday while the uncertainties of a world with the COVID-19 coronavirus would have delayed and complicated the project in any event, other factors in dealing with the city cropped up over time that also helped drive the decision to end the project – at least in Concord.
"I'm not really sure what Concord wants to do," Hall said. "We spent a lot of money and good faith, but it didn't work out."
"Even if we'd been on track (with the city) it would be a couple of years before breaking ground," Hall said.
In May 2018, the Concord City Council approved "advanced exploration" of the concept of the possibility of an 18,000-seat soccer stadium, and a convention center and hotel – maybe more than one – on a long-vacant parcel downtown near the police station and the Concord BART station. The land is bordered by Galindo Street on the west, Laguna Street on the south, Oak Street on the north and the BART tracks and station parking lot on the east.
Hall Equities affiliate Hall Sports Ventures in late 2017 bought an expansion franchise in the professional United Soccer League. The Concord stadium would have been the team's home, Hall said. The stadium could have hosted other sports, as well as concerts and other events.
There was even some talk early on about selling the Concord Pavilion and using those proceeds to help fund the downtown stadium project.
The concerts that would have played the Concord Pavilion, the reasoning was, would now play the downtown stadium.
Hall said Wednesday he still owns the franchise for a United Soccer League team, which doesn't yet exist. The franchise, he said, is exclusive for Contra Costa, Alameda and Santa Clara counties, and for the
southern sections of Napa and Solano counties.
"We're shopping in that general neighborhood" for a place to build a similar project, Hall said.