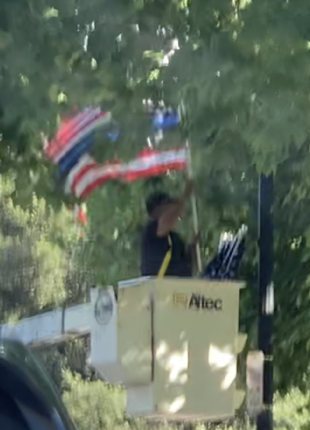 The City of Clayton on Tuesday put-up, and took-down several dozen thin blue line flags, which are meant to show support for police.
Laura Hoffmeister with the City of Clayton says these were to be donated replacement American flags by a couple of long-time residents and they did not provide the correct flag type.
Hoffmeister said as soon as it came to the supervisors attention that this replacement flag was not the approved replacement (not the standard American flag that was agreed to), they were removed and returned to the regular American Flag.
Hoffmeister said when the resident was asked if this was a misunderstanding, they stated no, they intended to provide an alternative type of American flag.
She said in order to fly the thin blue line flags, they would need to have City Council prior approval.
Clayton City Councilwoman Tuija Catalano at last night's Clayton City Council meeting said she wants to see if the city could ask the residents who donated the flags to reimburse the city for the time it took to put-up and take-down the flags. She said "it's one thing to replace the flags with one-to-one the same flags, it's one thing to deceive staff with a different flag."
photo credit: Matt Foley