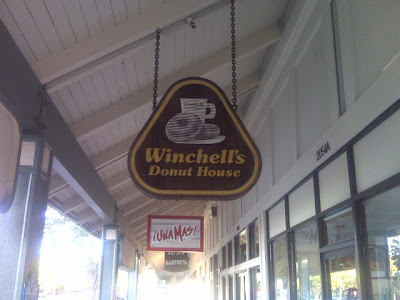 Let's keep going with this donut theme we all know and love.
Who remembers Winchell's Donut House? (now AllStar Donuts).
They had locations all over Claycord, including this one pictured above in the Countrywood Shopping Center on Bancroft and Treat in Walnut Creek. Other locations included Clayton Rd. in Concord and Contra Costa Blvd. in Pleasant Hill.
Despite no longer being a presence in Contra Costa County, Winchell's is still in business. They have over 170 locations nationwide, including many in southern California.
RELATED STORY: AllStar Donuts Closing For A Month While Owner Recovers From Surgery – Go Buy Some Donuts & Wish Him Well This Weekend
ABOUT THE CLAYCORD ONLINE MUSEUM: The Claycord Online Museum is made up of historical photos, documents & anything else that has to do with the history of our area.
If you have any old photos or items that you'd like to place in the Claycord Online Museum, just scan or take a photo of them, and send them to the following address: news@claycord.com. It doesn't matter what it is, even if it's just an old photo of your house, a scan of an old advertisement or an artifact that you'd like us to see, send it in and we'll put it online!
Click on the tag below titled "Claycord Online Museum" to view other items.