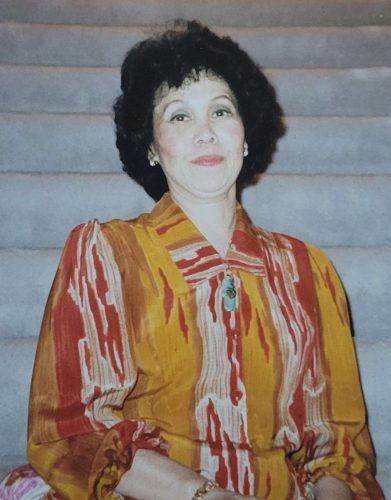 On February 2, 2023, Iem Gan Gwat Lauw (née Gan), beloved wife, mother, grandmother, sister, aunt, and friend, passed away peacefully at home at the age of 79.
Iem was born on January 29, 1944, in Solo (Surakarta), Indonesia, to Liana and Khalhun Ganuar. She immigrated to the United States with her husband, Ronald, and son, Andrew, in 1969. For a few years, she was a stay-at-home-mom to Andrew, before picking up work in retail. Then, Iem purchased and ran the Para Twin Palms Printing Inc. for 29 years, before her retirement in 2010.
When Iem wasn't at her shop, she was often found around her friends & family, hosting large parties, as she found incredible delight in people enjoying themselves. Iem also loved to travel, typically travelling to her favorite destinations, like Singapore, Pismo Beach, Carmel, Monterey & Solvang, California.
She was preceded in death by her father, Khalhun, and mother, Liana. She is survived by her husband, Ron, two brothers, Abdulgani & Kelly, two sisters, Lika & Ingka, son, Andrew, and grandchild, Arlo.
A celebration of life is TBD. Please contact Arlo Lauw via iem.celebrationoflife@gmail.com for more information.
Obituaries are always 100% free on Claycord.com.
To submit an obituary, please click the "free obituaries" tab at the top of the page.