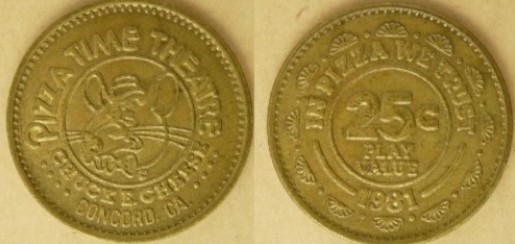 These coins are from the old Chuck E. Cheese "Pizza Time Theatre" in the Willows Shopping Center in Concord.
This location, which is now Old Navy, closed in the early 90s, and for many years, Claycord didn't have a Chuck E. Cheese until they reopened in Park-N-Shop about a decade ago.
Do you have any memories of the old Chuck E. Cheese? If so, feel free to share them.
ABOUT THE CLAYCORD ONLINE MUSEUM: The Claycord Online Museum is made up of historical photos, documents & anything else that has to do with the history of our area.
If you have any old photos or items that you'd like to place in the Claycord Online Museum, just scan or take a photo of them, and send them to the following address: news@claycord.com. It doesn't matter what it is, even if it's just an old photo of your house, a scan of an old advertisement or an artifact that you'd like us to see, send it in and we'll put it online!
Click on the tag below titled "Claycord Online Museum" to view other items.