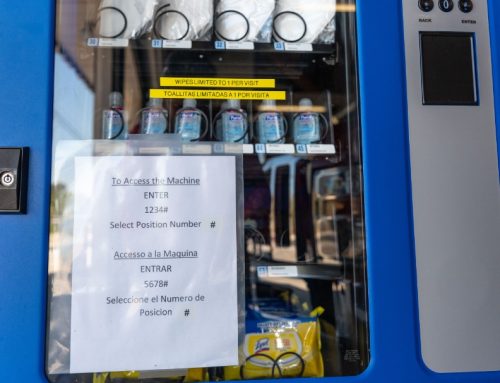 San Joaquin County Public Health Services placed three vending machines throughout Stockton last week stocked with free health products for the public, county officials said.
The machines were filled up with COVID-19 rapid testing kits, KN-95 masks, hand sanitizer, and disinfecting wipes.
Locations include inside the lobby of the county's Public Health Services administration office, on the first floor lobby of the county Human Services Agency and the Montezuma Fire Protection District station.
"When we examine the barriers that some people in our community have to obtaining rapid test kits and quality protective masks, accessibility and convenience come up consistently as reasons," Dr. Maggie Park, San Joaquin County's public health officer, said in a statement. "This is a creative solution for our agency to address this issue."
David Cardoza, administrative captain with the Montezuma Fire Protection District, said as of last Thursday, five people had used the vending machine to obtain supplies.
"We think this a great resource, especially since our station is open to serve the community twenty-four hours a day," Fire Chief Edward Martel said in a press release.
On Tuesday afternoon, the fire station located at 2405 S. B St., still had many of the products available with more people visiting for the COVID-19 tests.
A machine placed downtown at the county Human Services Agency office at 333 E. Washington St. had been cleared of the disinfecting wipes Tuesday and many hand sanitizers had also been taken by visitors.
"The Human Services Agency is a convenient location that is familiar to members of our community, and they can easily access this important free resource," Christopher Woods, director of San Joaquin County's Human Services Agency, said in a statement.
Public Health Services officials said the county has plans to install more of the same vending machines throughout the county.