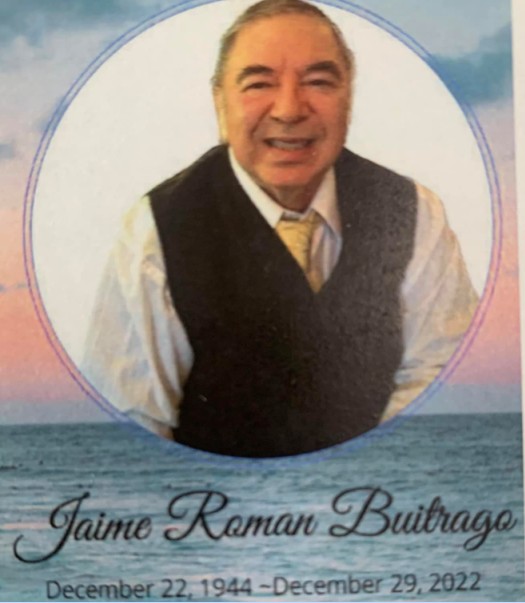 Jaime Roman Buitrago – 1944-2022 (Bay Point)
Jaime Roman Buitrago peacefully passed on December 29th, 2022 at the age of 78 years old. He was a husband, father, brother, grandfather, great-grandfather, uncle and friend.
Jaime was born on December 22, 1944 in Managua, Nicaragua. He was one of nine siblings to Benjamin Buitrago and Margarita Arteaga. His family immigrated and settled in the Mission district of San Francisco in 1952. He attended Gough School, Marina Junior HS and Galileo High School in San Francisco. He briefly worked for the USPS as a mail handler but most enjoyed his life as a family man.
Jaime is survived by his partner of 35 years, Elisabeth Kachur. He leaves behind his six children: Steven, Francisco, Anita, Patricia, Janet and Joe. He was preceded in death by his parents, Aura Maria and his sons (Carlos and Jaime Jr.) Jaime leaves behind eleven grandchildren and nine great-grandchildren.
Those who know Jaime, will forever remember his charm, radiant smile and animated personality. He became friendly with anyone around him and enjoyed chatting and telling stories. Some of these stories include his struggle of coming to America from Nicaragua and its long drives with his father, Benjamin. He was warm and inviting to all around him. Regardless of being Deaf, communication was never a barrier for him. He loved to entertain and dance, especially mimicking his favorite entertainer, Elvis Presley. Elvis inspired his commitment to good sideburns and hair.
Jaime enjoyed cars, being with his family and traveling. Some of his favorite pastimes while at home were drinking coffee, watching movies and going on walks his beloved dog, Bailey. Jaime's magnetic personality and charm will never be forgotten. He is reunited with his brother Luis and other loved ones in heaven. He will deeply be missed and his spirit will live on forever in our hearts.