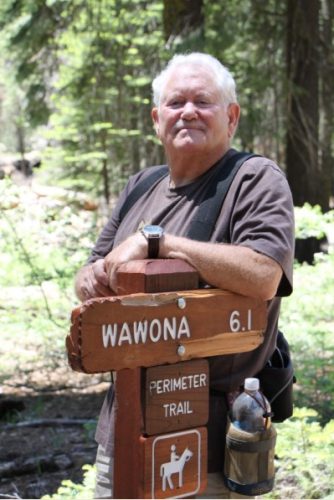 Obituary – Dayton Louis Horner – 1948 – 2023
Dayton Louis Horner aged 75 years passed away with his daughter by his side on Tuesday, May 9, 2023 after a short illness.
Day was born April 20, 1948 to Virginia Whitley in San Jose, CA but was given up for adoption. He was adopted by Don & Virginia Horner of Walnut Creek, CA where he was raised "up on the hill" his entire life. He attended Del Valle High School (Class of 1966). He was a decorated Vietnam Veteran serving in the Marines with the 88 inch Howitzers with almost 2 years of combat time. Upon returning from the war, he married Jean Fowler also of Walnut Creek and they had one daughter, Jennifer. Day and Jean divorced after a few years and Day never remarried. He loved his daughter Jennifer to ends of the earth and they shared a special bond.
Later in life Jennifer found Day's birth family and Day learned he had a half brother Max Frazier. Max and Day were two of kind and quickly became best friends making up for lost time. Day is preceded in death by his brother Max just last year.
Day was a member of NA and AA and had almost 30 years sober. He was a figure in the Placerville area helping others in recovery and was a part of the Progress House for a few years helping all who came through the program. He was looked up to by so many. He took people on hiking trips every year, climbing Half Dome in Yosemite at least half a dozen times. He loved Wawona; camping, backpacking, hiking, swimming in the Merced river with his daughter and two granddaughters. He created lasting camping memories with his family and friends. He was the "Fire Master" when it came to campfires. He recently started kayaking at many of the mountain lakes nearby and his motto was "Life is Good". His girlfriend Cathey often went on these kayaking adventures with him.
Day leaves behind his daughter Jennifer Wallig, his son-in-law Joe, two granddaughters Ashley and Lily, girlfriend Cathey Cort, Sister-in-Law Valerie Frazier, Niece Tania Pacheco, and many great friends that loved him so.
Marine Honors will be held at the Sacramento Valley National Cemetery in Dixon on June 5th at 3:00 p.m.
In lieu of flowers, please consider making a donation to the Marine Corps Honors Guard to honor the service of our Veterans. https://marinesmemorialfoundation.org/ways-to-give/
Obituaries are always 100% free on Claycord.com.
To submit an obituary, please click the "View & Submit Obituaries (FREE)" tab at the top of the page.