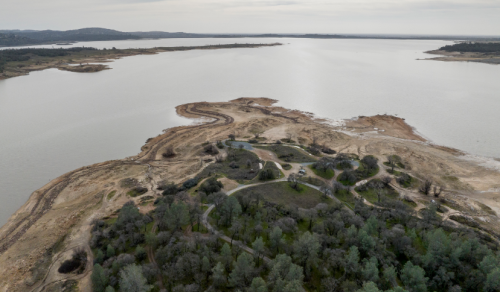 Many of California's water reservoirs have been at least partially replenished by the winter storms that have doused Northern California in recent weeks, according to state and local water data.
Most of the state's largest reservoirs, including Lake Oroville, the San Luis Reservoir and Lake Sonoma remain below their historical averages for early January, sitting at around 40 percent of their total capacity.
Those levels are up significantly from one month ago, however, when many reservoirs sat at between 20 and 30 percent of their capacities, according to data from the California Department of Water Resources.
Statewide, California's reservoir storage is at roughly 78 percent of its annual average for Jan. 8, according to the most recent data.
"While these storms have been great, we still, from a water supply standpoint, (are) below average and we'd like to see that storage picture improved," John Yarbrough, assistant deputy director of the State Water Project, said Monday in a briefing on the state's weather forecasts and water supply.
But while the larger reservoirs remain below their historical averages, the recent storms have pushed some smaller reservoirs in the Bay Area beyond their standard capacities.
The Almaden Reservoir, Uvas Reservoir and Coyote Lake, all in Santa Clara County, are all above 100 percent of their respective capacities, according to Santa Clara Valley Water.
The Lexington Reservoir and Chesbro Reservoir are also above 75 percent of their capacities. The elevations of all five reservoirs have increased by at least 10 feet over the last two weeks.
DWR Director Karla Nemeth noted Monday that even with all the rain in Northern California over the last two weeks, state water officials won't know its effect on drought conditions until later this year. For now, the state remains under a drought emergency designation.
"As our traditionally wet season progresses and we have a better understanding of what's going to happen with all of that snowpack and we have a better understanding of what's happening in different parts of the state relative to water supply availability, that's how we'll start to emerge out of a drought emergency," she said.