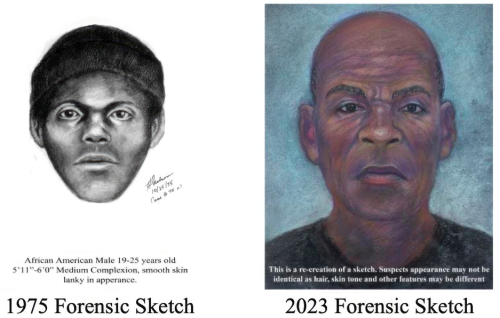 Detectives in San Francisco on Tuesday released an age progression composite drawing of the unsolved "Doodler" serial killer suspect in an attempt to revive their investigation.
Friday marks the anniversary of the first Doodler homicide, which occurred 49 years ago. Eventually six victims would be found murdered in the Ocean Beach and Golden Gate Park area between 1974 and 1975.
The suspected serial killer is known as "The Doodler" because one surviving victim said the killer was a cartoonist who doodled during their late-night dinner.
The victim met the suspect after the bars closed in July of 1975 at the Truck Stop diner near Market and Church streets, where the suspect drew animal figures on a napkin. He told the victim that he was in art school and was studying to be a cartoonist, police said.
This surviving victim provided information that led to the first forensic sketch of the suspect in 1975.
According to police, two different attacks in 1975 occurred within two weeks of one another in the Fox Plaza Apartments. Both victims lived on the same floor but did not know each other. Investigators made a connection between those attacks and attacks at or near Ocean Beach.
Soon after the first composite sketch was released, police say a woman called them and provided a name and vehicle plate for the suspect, calling twice in ten days. Police are now hoping to find this woman. Additionally, at least two other people called the SFPD and provided the same name. Police are also hoping that these people will again come forward.
Police said that they interviewed the man identified by the callers in January of 1976 and that he was considered a "strong suspect" and is still the focus of the case.
All of the Doodler's victims men who were believed to be gay, and there is speculation that some surviving victims feared coming forward at the time because they didn't want their homosexuality or sex with men revealed.
"We believe there are other persons who may have survived attacks by this same suspect or may have information regarding this suspect and these attacks," said the SFPD.
SFPD has increased the reward for information leading to the identification, apprehension and conviction of the suspect from $200,000 to $250,000. Police had already doubled the $100,000 award last year.
Anyone who thinks they have information regarding these homicides and attacks should contact that SFPD Cold Case Investigators team: Tom Newland (415) 553-1144; Dominic Celaya (415) 553-9856; Daniel Dedet (415) 553-1450 or Daniel Cunningham (415) 553-9515.