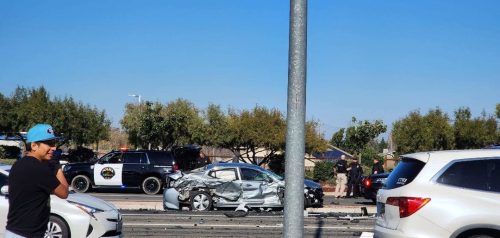 A vehicle collision has been reported on Laurel and Empire, just east of hwy.4 in Oakley.
This was possibly related to a police pursuit.
The road will be closed for at least an hour and a half, according to Oakley Police.
Use Caution of you're in the area.
Thanks to Yoli for the photo.
UPDATE: This was a pursuit by the Contra Costa County Sheriff's Office. The suspects were robbery suspects from Concord, according to the Sheriff.
UPDATE: This was related to an armed robbery in the 5300 block of Crystal Ave. in Concord at 7:50 a.m. today. Two black male adults with pistols robbed a man who was walking out to his driveway. A Rolex, cell phone and wallet were stolen during the robbery. The victim sustained an injury to his head. He was bleeding when police arrived.
AUDIO BELOW (courtesy of broadcastify.com):
ROBBERY:
CRASH: