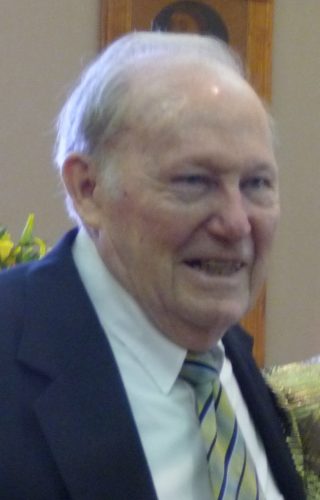 Alfred "Al" Emanuel Hoffmeister
Al was born in New York City the 7th of 11 children to parents Hannah (Lane) and Charles Hoffmeister. After 98 years and 10 months he passed peacefully at home on December 9, 2022.
He was born during the Great Depression and was named after Alfred Emanuel Smith, the famous New York governor at the time. A Yankees fan he attended many games and loved big band music. He joined the U.S. Army Air Corps (Air Force) to fight in World War II working with B-17 Flying Fortress – China/Burma/India Theater, and honorably discharged as a Sergeant at wars end. He graduated with a degree in business administration from St. Johns University. In 1959, he began at Kaiser Aluminum in Oakland as metal trading manager, where his future wife Georgia Belle Davis was working. They were wed on November 12, 1960. In 1962 they moved Concord, CA where they raised their four children and have remained since. Al worked at Kaiser for 25 years and commuted in carpools as well as riding the then new sleek and modern train system, BART. He retired from Kaiser in 1989 and after consulting, he completely retired in 1993.
An early and active Concord resident, he served many years as a baseball coach and on the Concord American Little League Board, an adult leader in YMCA Indian Guides, Concord High School Marching Band Boosters, and both Boy and Girl Scouts of America, and an original member of St. Bonaventure Catholic church serving many years as usher.
He was kind to all and quiet, but when he spoke, it was with wisdom and experience. He was humble, hardworking, and honest. He was steadfast in his faith, and to his family. He had battled and survived many accidents and illnesses but the Lord did not call him home until he was past 98 and headed to 99 years. He was loved by so many and holds a deep place in all our hearts.
Without a doubt or hyperbole, he truly was the greatest husband, father, and grandfather. At 98 years old, and in declining health, we knew this day would come but it's still difficult to realize that he's no longer with us or will be coming back home.
He's at peace now and with his family in heaven.
He is preceded in death by his mother Hannah, father Charles, and siblings Edwin, Bud, Frank, Bob, Catherine, Marie, Eileen, Margie, and Betty. He is survived by his wife of 61 years Georgia, daughter Laura, sons Stephen, Thomas, and Philip; 9 grandchildren: Tessa, Hannah, Trent, Hope, Grace, Jacqueline, Johnathan, Matthew, and Erik, and sister Dorothy of Buffalo, NY, and many loving and special nieces and nephews.
Obituaries are always 100% free on Claycord.com.
To submit an obituary, please click the "free obituaries" tab at the top of the page.